Today we have a plan to explore the North Iceland. The first intention was to drive the shortest way by the Ring Road. Luckily we decided to follow the suggestions of the David and drive by the ocean shore to the North. One more sunny day – just a bit of light rain in the evening.

In the morning we explore three lovely coastal towns – Dalvik, Olafsfjordur and Siglufjordur. Dalvik is one of the places for whale watching tours. We skip this for now as we have more than 300km to drive today.
We follow by the ocean shore untill the Tordarhofdi headland – narrow 4km long pebble band with the iceland of meadows and hills at the end. Looks like as in middle of nowhere so we go to explore.
It is not particularly easy to walk the pebble part and soon we notice that we have entered a property of artic terns – rather aggressive creatures that scream wildly and fly back and forth close to our heads. We have to accept their concerns and to walk around them by the very edge of the water.
Tordarhofdi is a hilly peace of earth covered with meadows. We stroll and climb some of hills. The headland and the sea next to it is a favorite place for different kind of birds – swans in particular.
Having enough of Tordarhofdi we fight for the way back with the tern militia.
Next destination is the Hofsos swimming pool. In some tourist information center earlier today we were told it is the most beautiful in Iceland. We have not seen others yet but this is great indeed – an open swimming pool at the ocean shore. One can swim and look at the mountains across the fjord.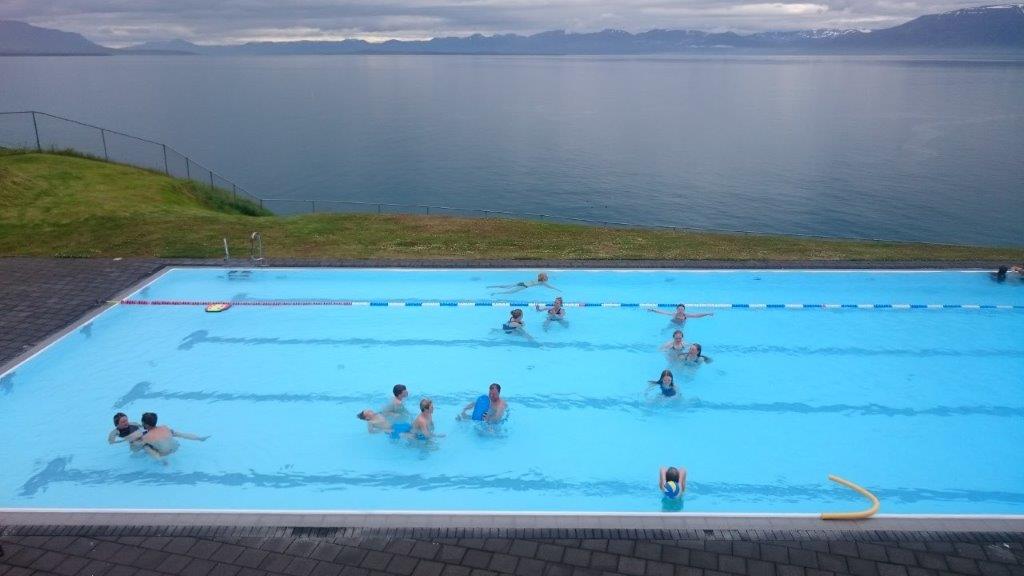 Download file:
Tordarhofdi sala.gpx