We drive North to Sort by Noguera Pallaresa river. Just after the Sort we then turn left and proceed the mountain road to the Llessui village. The track starts just behind the village near the end of the public road. A part of the parking place is barred by fence – looks like it is used to collect the cattle for transportation. We park near the fence and start our hike.
It is little bit foggy. Gorgeous mountain views change in no time to no view at all. We follow the country road by the pasture full with sheep, cows and horses. The grayish-brown cows look particularly beautiful. We a lucky enough to see partridges. They avoid though to take part in a photo session.
After walking the mountain roads for more than 10km we feel like it is time to search the way back. Before that we climb the top of the nearby hill. The path goes there by the fence. Feels a little bit surreal to go upwards to the sky by the fence 🙂
It appears to as that the fence might be used for cattle and thus could have some power. So we treat it very carefully. Ilze makes sure though later in the parking lot that we are right – when opening the car door it touches the fence…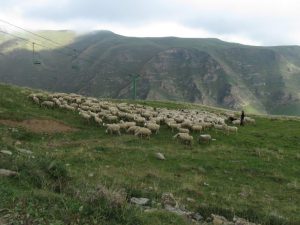 The end of track of the way back is lost, it is the same as on the way forward.
Download file:
10-01-llessui-r.gpx