The track starts right near our doorstep. We cross La Noguera Pallaresa by the wooden pedestrian bridge and soon step on a mountain path. Our hotel is located 600m above the see level, the Malmercat village is some more 300m uphill and 4km walk by the woody mountain slopes.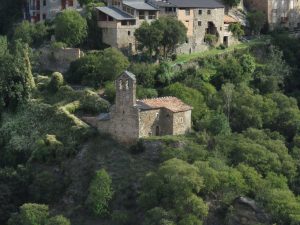 We walk through Malmercat by the steep windy road and soon have a distant sight on Tornafort on the hill top. It has a lot of renovated houses (like a number of other villages in Spain we visited). Stone walls, narrow, windy streets laid in stone tiles and things like that.
Prior to explore this in detail we walk a little bit uphill to the sight point mirador de Montmaior. Tornafort looks a bit like fairy tail village from there. Then back to stroll the village streets. We decide to take another path back via Saverneda village. This makes our way back significantly longer. The total distance appears to be 16.5 km.
Download file:
09-29-Baro-Malmercat-Tornafort 16Km.gpx