Today we approach the Aigestortes park by the valley of river Flamisella, just next to the West from our river Noguera Pallaresa. We drive there over the mountain pass to Pobletta de Bellvei, then by the valley to the North – to Cabdella and further to Sallente basin.
We reach the basin just before the tourist buss full of the people who look eager to go hiking. So off we go before the competition is ready. The path is rather steep we follow it until the old miners train track not used anymore. The track proceeds by the train track through several tunnels. We use the loose, rusty tracks to pass the tunnels as the rest is larger or smaller puddles.
The hiker group from the bus selects another track so we have no followers anymore when proceeding to the lake Gento, that is located just above the Sallente basin (one can go there by cable train during the season). We walk further to the mountain refuge which is closed as well. Only one room is open – they who stay have to care for the food and heating themselves.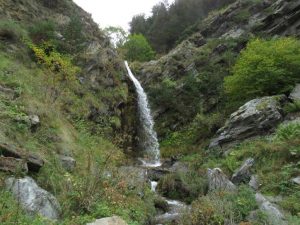 We descend by the same path. On the way back we stop to explore Pobletta de Bellvei, then have a kind of picnic next to the lake Montcortes (Estany de Montcortes). As our hosts Silvia and Mark said – this lake is not like other mountain lakes. Easy to imagine that we are, for example, in Latvia 🙂 .
Download file:
09-30-montcortes-sallente-r.gpx