The idea was to go somewhere for Christmas. The Bergamo qualified for the simple reason – a cheap flight 🙂
We land in Bergamo on December 22nd at 1pm and drive to our hotel Bergamo & Dintorni. The hotel in fact is a couple of flats in a three store building. We have a large room with table, sofa and a kitchen inside. The bedroom is behind the wardrobe. And the bathroom. Jimmy Hendrix, Bertold Brecht, Steve Jobs, Oscar Wilde and Kurt Cobain on the wall in this order. The hostess is a young and dynamic girl. We settle down and go off for the lower part of the Bergamo (leaving the old city for tomorrow). The persimmon tree is full of fruits.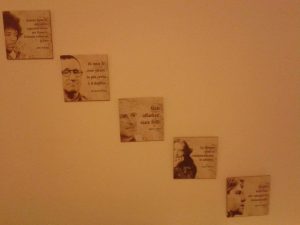 The streets are decorated for he Christmas, it is a little bit weird to see light strings on the birch trees full of yellow leaves. We stroll the lower part and then select to walk uphill to the old town (in favor of pica). When in the upper part it is dark already. We take a look on the Basilica di Santa Maria Maggiore and have a pica after that luckily. We stroll the streets of the old city while the fog comes after us and then descend back to the lower Bergamo. With some use of headlamps but without the fog that has stayed in the old part of the city we soon return to our hotel.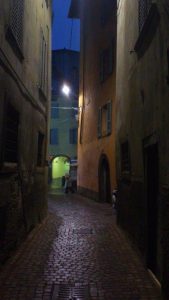 diary: