It's raining during the night and it since it hasn't stopped in the morning, we sleep in. Then we put our raincoats and we go about 8km towards Latschau, where we take the cable car (it's unattended, so we have to board ourselves) and go up the mountain. The adventures begin immediately, since turns out instead of getting off at the final destination, we get off somewhere in between. It adds another hour to our trip, which isn't by our schedule, but maybe it's for good since when we reach the top of the mountain the rain has stopped.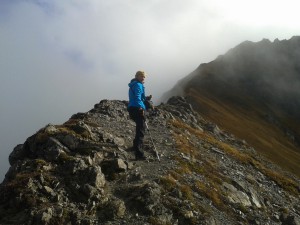 At the beginning, while going to the first designated mountain top called Kreuzjoch, all we can see is mist, but shortly enough shy starts to clear out, and we can see little bits of the mountain, shortly after that the whole view is revealed, and it's beautiful.
Then we make our way to the next mountain top called Geispitze, after reaching it, we start our way downwards the slope until we arrive at the mountain house called Linderhaute. We leave our boots and backpacks in the lobby, and enter the dining area in flowery green slippers. There we eat Tyrolese dumpling soup. Although there's only one dumpling in the soup, it's tasty and quite stodgy.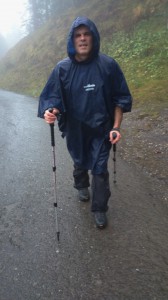 The rest of the trip to Latschau leads downwards the mountain, and it's a long one. When we reach our destination it's completely dark outside. In total we have traveled more than 1000m upwards and 1600m downwards the mountain.
More photos

Translated by