Sunday, on the 19th of October in the south of Switzerland, in the Canton du Valais, happened the event of the mountain run/walk, which has been happening since 2001.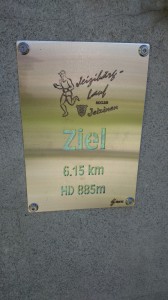 Although the day is quite sunny, it feels rather cold. Nordic walkers have their start at 10:30 in the morning, runners start an hour later.
The start was quite surprising, since almost everyone started to run ( the acctual difference between running and walking wasn't that clear).
The beginning of the track was leading trough the streets of the city and was later continued on the trail, which went up the mountain all the way to the goal. The track was 6.15km in length with 855m height difference. It was unusual and quite difficult – we could observe some of the participants sitting at the side of trail. Weather was getting warmer. Other participants, on the other side, were feeling quite well, one of the female participants was yodeling the whole way trough. Lot of the participants were families with children. One little girl was helping herself by holding onto her dad's pole. There were many supporters on the way, especially in Jeizinen, were they were actively cheering every participant. We really had to pull ourselves together, since we were getting really exausted.
After making our way back we realized that it's not even the middle of the day – so we still have an off chance to do something else. We went to see Moiry – one of the biggest dams in Switzerland.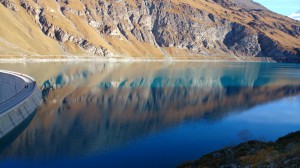 The dam is 148m in height and 610m in length, it is situated 2249m high in the mountains about 10km from the border of Italy. It's a 20km distance on the serpentine to get there.
We leave our car by the dam (it's possible to get even further) and make our way up the mountain trail, walk across the dam to the other side of the lake. There through the tunnel, followed by honking, a public bus was making it's way to the parking lot – quite an unusual view.
On our way back we stopped near a small chapel which was near the edge of the cliff. It's dark when we arrive at the hotel. We are eating the special meal served in pan.
More photos

Video from Jeiciberg run.
Translated by